Home

»

Oregon Matt Arena Opening Night Basketball Picture
Oregon Matt Arena Opening Night Basketball Picture
Product Description
13.5 in. x 40 in.
no matting or
matted in team color
protected with clear glass
hanging hardware included
choice of 3 wood frames (see Frame Details tab below)

This panorama is printed on pH neutral, heavy art paper and officially licensed. This panorama, taken on January 13, 2011, captures tip-off excitement during the historic first game in Matthew Knight Arena where Oregon defeated USC before a capacity crowd of 12,364 fans. The new Matthew Knight Arena is considered the most innovative and unique basketball arena in the United States. Inside walls document every significant event in Oregon basketball history, including memories of McArthur Court, the Ducks' previous home for 84 years. The unique floor, named after Pat Kilkenny, features symbolic references to the Pacific Northwest, Oregon's 1939 National Championship and Matthew Knight, son of benefactor Phil Knight for whom the arena is named.

Posters are not available unframed. The print images on our website don't do justice to the actual finished piece that you will receive. Why? Because though the print images shown on our website are taken from the actual print or photo, the mat and frame shown around the image is an illustration created in Photoshop meant to represent the actual mat and frame.

TICKET FRAMING
Send us your game tickets or photos to frame with this panoramic print! see samples
Note: The matted option must be selected to include ticket framing.
Frame Details
The print images on our website show photoshop illustrations of a mat and frame. To the right is a photo of the actual frames we use.
The black, cherry and walnut frames are all real wood, approximately 1 1/4" wide.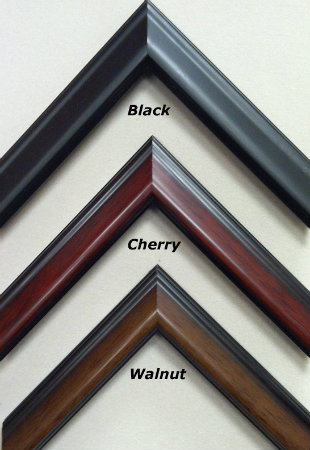 The print images on our website show photoshop illustrations of a mat and frame. To the right is a photo of the actual frames we use.
Both mahogany and walnut frames are real wood, approximately 2 1/2" wide.
Shipping & Return Information
Ground Rates for Continental U.S.
Prints will ship via UPS or Fedex to locations in the United States.
We do not ship to PO boxes or APO addresses.
| Total Purchase | Shipping Rate* |
| --- | --- |
| $.01 - $55.00 | $13.00 |
| $55.01 - $99.00 | $18.00 |
| $99.01 - $245.00 | $22.00 |
| $245.01 - $500.00 | $29.00 |
| $500.01 and up | $46.00 |
*CA, WA, OR, NV, MT, ID, WY, UT, NM, AZ + $6
Returns
We offer a 100% satisfaction guarantee. If you are not completely satisfied with our product, we will gladly accept a return for exchange or refund (less shipping), provided it is returned within 30 days after receipt and is received in new condition. Personalized items are not returnable. To return a MyTeamPrints.com product, simply repack the item in its original packaging. Include your original packing slip, or if you don't have a copy, include your name, address and email address. Tell us your preference for exchange or refund. We suggest you insure the item being returned as we are not responsible for damaged return products.
Find Similar Products by Category